Description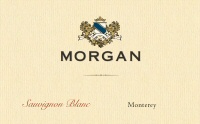 Tasting Notes
The 2015 Sauvignon Blanc features aromas of lemon balm, guava, and citrus blossom. Flavors of key lime and grapefruit with a hint of grass are lively and refreshing. The small touch of oak lightly accents the bright acidity and adds an elegant texture. An incredibly food-versatile wine, the Morgan Sauvignon Blanc is a natural match for shellfish, seafood, and lighter summer fare.

Varetal
Sauvignon Blanc, the noble varietal primarily responsible for white Bordeaux and Sancerre, is prized for its citrus and herbal flavors and refreshing acidity.
Vineyards
Drawing from vineyards in Monterey's Arroyo Seco and San Lucas districts provides a nice combination of cooler and slightly warmer climate fruit sources. Bright acidity from the north, closer to Monterey Bay is juxtaposed to ripe, lush fruit flavors from the south.
Our Sauvignon Blanc is a proprietary blend of classic Sauvignon Blanc, Sauvignon Musqué, and Semillon. The classic Sauvignon Blanc clone offers typical sweet grass flavors while Sauvignon Musqué is a cultivar that we prize for its aromatic intensity and citrus/tropical fruit flavors. Semillon, another noble Bordeaux varietal, adds richness and depth.
Winemaking
The juice was tank fermented to preserve bright fruit flavors. Following fermentation, the wine was transferred to Bordeaux barrels, of which 7% were new, for five months of aging. The final blend was composed over several tastings of the individual lots.
.