---
The First Endeavor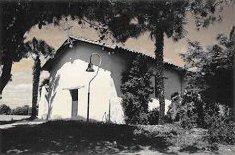 Wine grapes were first introduced in Monterey County well over 200 years ago by the Franciscan Friars at the Spanish Mission in the town of Soledad, in southern Monterey County. They discovered early that the cool evenings and afternoon heat was the ideal climate for developing the intense fruit flavor winemakers covet. Sadly, no trace remains today of what became more than 40,000 acres planted in vineyards.
A New Age in Grape Growing
In 1960 Professor A.J. Winkler, a viticultural authority from the University of California at Davis, published a report classifying grape growing districts by climate. Monterey County was classified as Region I and II, comparable with the premium regions of Napa, Sonoma, Burgundy and Bordeaux. Soon, large corporations mapped out huge vineyard plots to supply their anticipated need for premium "fruit wine" and "dessert wine" offerings. Pioneer types, such as Chalone, established independent wineries in many different parts of the county. A few established mid-sized wineries such as Wente, Mirassou, Paul Masson, and J. Lohr , feeling the pinch of urbanization in Livermore and San Jose, looked south to Monterey for expansion.
The Vines Take Off
From less than 5 acres in 1966, the area experienced vineyard expansion to 2,000 acres by 1970. A full-scale planting boom got under way, and for over 40 years now, Monterey County has averaged 1,000 acres of vineyard growth per year. Today, it stands near 45,000 acres planted in vineyards varying in size from sixty to several thousands acres, making it the largest premium wine grape growing region in California, worth over $200 million.
Distinguishing Characteristics of Monterey County Wines
New plantings allowed the vineyardists in Monterey County to combine many years of experimentation, and the best of proven traditional methods, with modern technological improvements and scientific research. The remarkable grapes which now produce these distinctive wines are the result of three key elements - the land itself, the near-perfect climate and the blend of traditional and innovative methods used by growers and winemakers.
Over the years, the Monterey County appellation has expanded to eight different growing regions, all of which impart distinct characteristics into the wine. Wines from these vineyards have unique qualities which make them easily distinguishable from those produced elsewhere in California, or the world. Chardonnay is an especially important grape as it comprises 40% of total grape acreage. Chardonnay grapes from Monterey County vineyards have become especially prized by winemakers throughout the state. Currently, the northern areas of the county are heavily planted in Chardonnay, Pinot Noir, Riesling, and Pinot Blanc. In the warmer southern areas, red grapes such as Cabernet Sauvignon (the second largest variety), Merlot and Zinfandel are common.